Sathak Innovation and Incubation Foundation
The main objects to be pursued by the company upon its incorporationare:
| | |
| --- | --- |
| a) | To promote commerce, science, education and research by helping, establishing and incubating startups, individuals, teams with innovative ideas to make prototypes and to convert them into Products. |
| b) | To promote a culture of innovation driven entrepreneurship in the fields of science, engineering, technology, commerce, agriculture, health care, medicine, pharmacy, education, arts, sports and other various fields. |
| c) | To establish, help establish and or manage infrastructure, laboratories, to make and test prototypes/products, pilot plant production facilities, software development facilities, training and human resource development centre, propogate new scientific and technologies development and innovation from idea stage to full scale commercial production or any part of this chain. For the above purposes to assist, co- operate or collaborates with any establishment, laboratory, technology business incubators centre, organisation or institution in India or abroad. |
Incubation Cell
Various programs and initiatives to support aspiring entrepreneurs and early-stage startups.
Incubation services, which typically include 5000 sqft. physical office space, several 100, 400, 700 seater halls for conducting many events in Entrepreneurship, infrastructure, and shared resources for startups.
Funding opportunities to startups through grants, seed funding, or connections to potential investors.
Mentorship programs where experienced professionals and industry experts provide guidance and support to entrepreneurs and startups.
Access to a network of investors, venture capitalists, and angel investors who are interested in supporting innovative ideas and startups.
Organizes events, workshops, and training programs to foster innovation, entrepreneurial skills, and knowledge sharing.
Facilitates partnerships with academic institutions, industry bodies, and government agencies to create synergies and opportunities for startups.
Incubation Lead
Akshita K
SIIF, MSAJCE
Mohamed Sathak A.J. College of Engineering
Chennai- 603103
info@siif.ventures
National Innovation and Startup Policy
Vision
To cater the needs of student entrepreneurs with innovative ideas there by introducing a culture of entrepreneurship inside campus which will strengthen our education system and there by promoting the national economic and social growth
Mission
To develop an ecosystem with required infrastructure that can enable students and faculty to innovate and prototype their potential ideas with industrial standards and support from Government, industry and reputed academic institutions around the world and help them to realize their potentials.
Short Term Objectives:
To help student groups to prototype their ideas.
To improve innovation, creative and design thinking among student community.
Incubation facility for faculty driven start-up and student/Alumni start-up.
Organize FDP, seminars and workshops, distinguish talks for students, Faculty and Alumni and promote entrepreneurial culture.
Strengthen institute industry interaction cell activity and effectively use the outcomes for achieving the mission.
Long Term Objectives:
Associate with DST, CII, MSME and other academic institutions for transferring world class facility for MSAJCE IEDC activities.
Improve quality of research work among students and to attain patent, which can be commercially used in production.
Provide a platform for students to develop innovative products with global recognition and generate business opportunities.
Generate revenues through consultancy work and student start-ups.
Spread awareness to students and faculty regarding IPR related activities.
Strategic partnership linkage with

Entrepreneurship Development Institute of India (EDII), Chennai.
National Innovation Foundation (NIF) of India to submit ideas and apply for schemes.
Procure fund from AICTE for Entrepreneurship Development Cell.
Committee Members
| S.No | Name | POSITION |
| --- | --- | --- |
| 1 | Dr. K.S. Srinivasan Principal, Mohamed Sathak A.J. College of Engineering (MSAJCE), Chennai | President |
| 2 | Mr. Prakadesh Subramanian Strategic Partner, SIIF, Chennai. | Incubation Coordinator |
| 3 | Mr.Parvez Aalam CEO, Crescent Innovation Incubation Council, Chennai | Incubation Coordinator |
| 4 | Mr.Thiyagaraja Gupta Deputy Controller of Patents and Designs | Patent Expert |
| 5 | Ahamed Jamel AMT IT consultant, 4A technology | Alumni Entrepreneur |
| 6 | Abdur Rahim Salih Director & CEO V5 Innovations Pvt,Ltd | Alumni Entrepreneur |
| 7 | Asim Ali. L CMO, Customer Labs | Alumni Entrepreneur |
Thrust Area
| S.No | PLAN |
| --- | --- |
| 1 | To develop Strategies and governance for Promoting Innovation Entrepreneurship in the institute |
| 2 | Creating Innovation Pipeline and Pathways for Entrepreneurs and Startups. |
| 3 | Building Organizational Capacity, Human Resources and Incentive |
| 4 | Collaboration, Co-creation, Business Relationship and knowledge Exchange |
| 5 | Incubation & Pre-Incubation support at SIIF |
| 6 | IP Ownership Rights for Technologies Developed at MSAJCE and SIIF. |
| 7 | Pedagogy & Learning Interventions for Supporting Innovations & Start-ups |
| 8 | Entrepreneurial Performance Impact Assessment |
KPI Monitor & Evaluation
Hierarchy of Objectives
Key Performance Indicators (KPIs)
Means and Verification
Vision

Increase in Self-Employment Rate
5 Established Start-ups per year

Goal

Establish the Environment with multiple level of support for innovation & Entrepreneurship and startups.
Students will choose Entrepreneurship as career

Outcomes

All the student & faculty with entrepreneurship Orientation
Student & faculty motivated to start any entrepreneurial activity
5 IPR/Innovations developed ideas/year
5 Student/Early-Stage Start-ups to be formed/year.
In-house Expert Capacity facility available for Advisory Services
25% of Student & faculty mass exposed to awareness/orientation building programs
Students covered through entrepreneurship Education; MOOC, Class Room, Experiential Learning programs etc.
250 of beneficiaries are accessing the infrastructure & facilities per day, month & Year
25% innovators identified; 25 of awarded,/recognized; 25 of Supported
5% Student projects turn to (commercialize) Innovations
5 of IPR based product/services generated and registration filed
In-house trained professional developed for advisory services
5 of Research Studies on Entrepreneurship published
2 of Regional, National and International linkages established for the start-up & innovation
5% Representatives of experts & entrepreneurial students across Dept. & Disciplines.
5 of Beneficiaries Referred to Incubators/investors for further support through Start-up Cell
10 of Beneficiaries generated under various schemes and programs leveraged and converged at Start-up Cell

Quarterly News Letter
Biannual Survey
Monthly progress report

Activities

5 Education/Skill certification program on Entrepreneurship, IIPR, Innovation etc.
25 of workshops, awareness, and market outreach events, orientation, advocacy meetings etc.
12 of networking event (Intra and Inter-institutional, enablers, stakeholders) organized
5 of skill and competency development training programs/FDPs/EDPs organized.
5 of research studies related to Entrepreneurship conducted
01 of national and regional award and campus Hackathon like events organized
Incentivizing Entrepreneurship and Innovation; services and facilities; Start-up Manual, policies, tool kits etc.
1% of total budget/year spend against total institution revenue for start-up
Budget allocation and Spend ratio for the start-up mandate in institute

Biannual Survey
Quarterly News Letter
Monthly progress report
Review Meetings
Tentative plan for the next 5 years
| S. No. | Activity | Frequency |
| --- | --- | --- |
| 1 | One Day Workshop on "Entrepreneurship and Innovation as Career Opportunity" | One per Year |
| 2 | One Day Workshop on Problem Solving/Design Thinking/Ideation Workshop/ Campus Hackathon etc | One per Year |
| 3 | Field/Exposure Visit to Village/Society /School/Industry/Market – Identity real Life Problem | One per Year |
| 4 | Special Talk on My Story - Entrepreneur's Life & Crossroad – Motivational Speak - To be Share by Entrepreneurs | Two per year |
| 5 | Product Development Phases - Story Telling - (Innovators in Campus) | Two per year |
| 6 | National Conference/workshop on Start-up/Social Innovation & Entrepreneurship | One per Year |
| 7 | Demo Day – Exhibition Cum Demo for PoCs & Mentorship Session for Innovators (or) Student Entrepreneurs | Two per year |
| 8 | Internship at Innovation & Start-up Centre/Startups/Incubation Unit etc. during Semester Break | One per Year |
| 9 | Field/Exposure Visit to Incubation Unit/Patent Facilitation Centre/Technology Transfer Centre | One per Year |
| 10 | Business Plan Contest | One per Year |
| 11 | One Day Awareness/Mentoring Session on IPR & IP Management for Innovation and Start-ups | One per Year |
| 12 | Field/Exposure Visit to Design Centre/Makers' Space/Fab Lab/Prototype Lab/Tinkering Lab etc. | One per Year |
| 13 | Seminar on Accelerator/Incubation - Opportunity for Student Faculty - Early-Stage Entrepreneurs | One per Year |
| 14 | Seminar on Understanding Angel and Venture Capital Funding - What is there for Early-Stage Innovator & Entrepreneurs | One per Year |
| 15 | Boot camp for Innovation product development | One per Year |
| 16 | Innovation Day Celebrations | One per Year |
| 17 | National Science Day | One per Year |
| 18 | Workshop Funding Opportunities for Innovation and Entrepreneurship Development | One per Year |
| 19 | CITBIF Hackathon | One per Year |
| 20 | Short Term Training course on Innovation /Start-up & Entrepreneurship | One per Year |
Entrepreneurship Development Cell
Roles and Responsibilities
1. Encourage the students to become entrepreneurs by organizing entrepreneurship development programs and make them to participate in the activities organized by the external agencies.
2. Organize the training for Startup / Incubator and arrange the mentoring to proceed further.
3. Coordinate with Strategy partner of Sathak Innovation Incubation Cell (SIIF) and execute various Activity.
Mr.L.Tharanikumar/ Mech (Head EDC & HSC)
Mr.N.Suresh / EEE
Mrs.S.Usha / English
Mrs.A.Preethy Mary / Civil
Mr.M.Ashokkumar / ECE
Mrs.A.Gowri /CSE
Institution Innovation Council (IIC)
Institution Innovation Council (IIC-MSAJCE) had been constituted in our college as per the guidelines of the Ministry of Human Resource Development Innovation Cell (MIC)
Introduction
Ministry of Human Resource Development (MHRD), Govt. of India has established 'MHRD's Innovation Cell (MIC)' to systematically foster the culture of Innovation amongst all Higher Education Institutions (HEIs). The primary mandate of MIC is to encourage, inspire and nurture young students by supporting them to work with new ideas and transform them into prototypes while they are informative years.

MIC has envisioned encouraging creation of 'Institution's Innovation Council (IICs)' across selected HEIs. A network of these IICs will be established to promote innovation in the Institution through multitudinous modes leading to an innovation promotion eco-system in the campuses.

Major focus of IIC
To create a vibrant local innovation ecosystem. Start-up supporting Mechanism in HEIs. Prepare institute for Atal Ranking of Institutions on Innovation Achievements Framework. establish Function at Ecosystem for Scouting Ideas and Pre-incubation of Ideas. Develop better Cognitive Ability for Technology Students.

Functions of IICs
To conduct various innovation and entrepreneurship-related activities prescribed by ministry of Education's Innovation cell as and when announced by it.
| | |
| --- | --- |
| | Identify and reward innovations and share success stories |
| | Organize periodic workshops/ seminars/ interactions with entrepreneurs, investors, professionals and create a mentor pool for student innovators |
| | Network with peers and national entrepreneurship development organizations |
| | Create an Institution's Innovation portal to highlight innovative projects carried out by institution's faculty and students |
| | Organize Hackathons, idea competition, mini-challenges etc. with the involvement of industries |
Vision
To be a centre of excellence for transforming students into proficient Electrical and Electronics Engineers through sustainable practices.
Mission
M1. Impart core fundamental knowledge and necessary skills in Electrical and Electronics Engineering through innovative teaching and learning methodology
M2. Inculcate critical thinking, ethics, lifelong learning and creativity needed for industry and society
M3. Cultivate the students with all-round competencies, for career, higher education and self-employability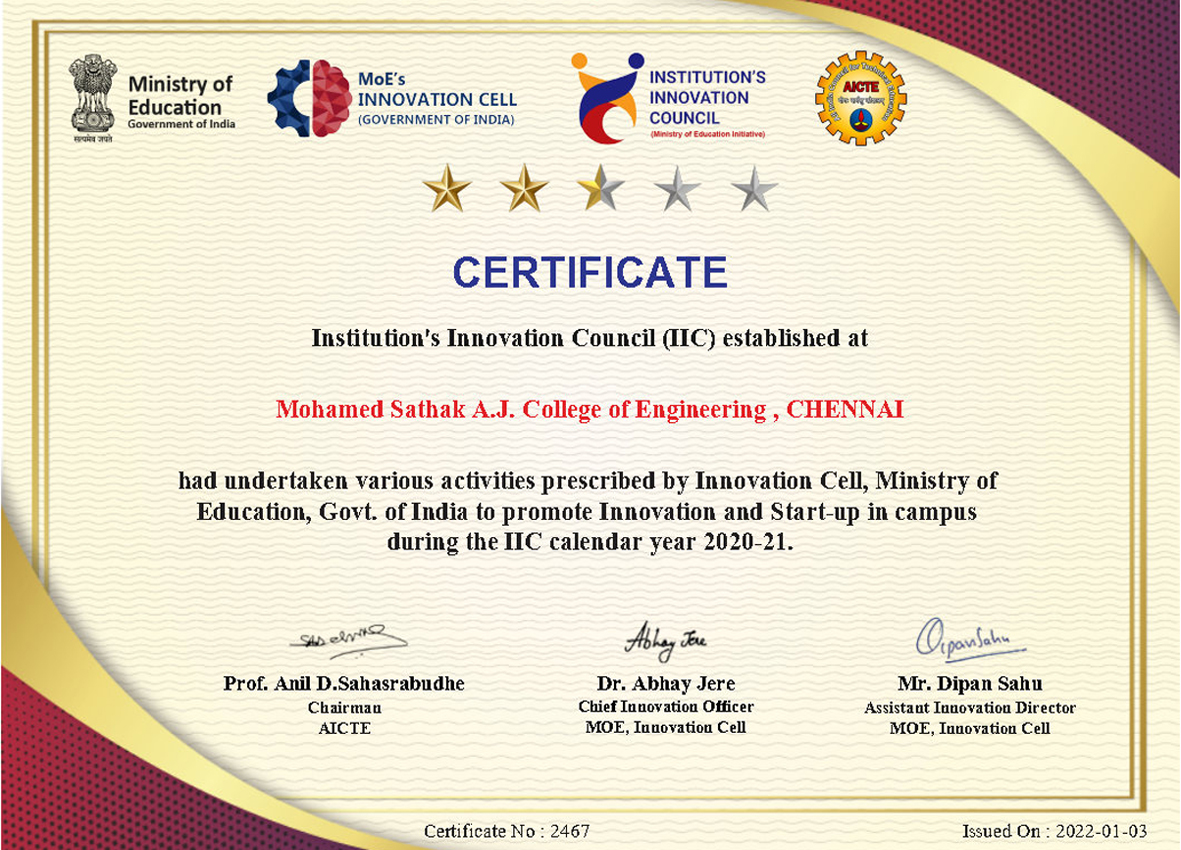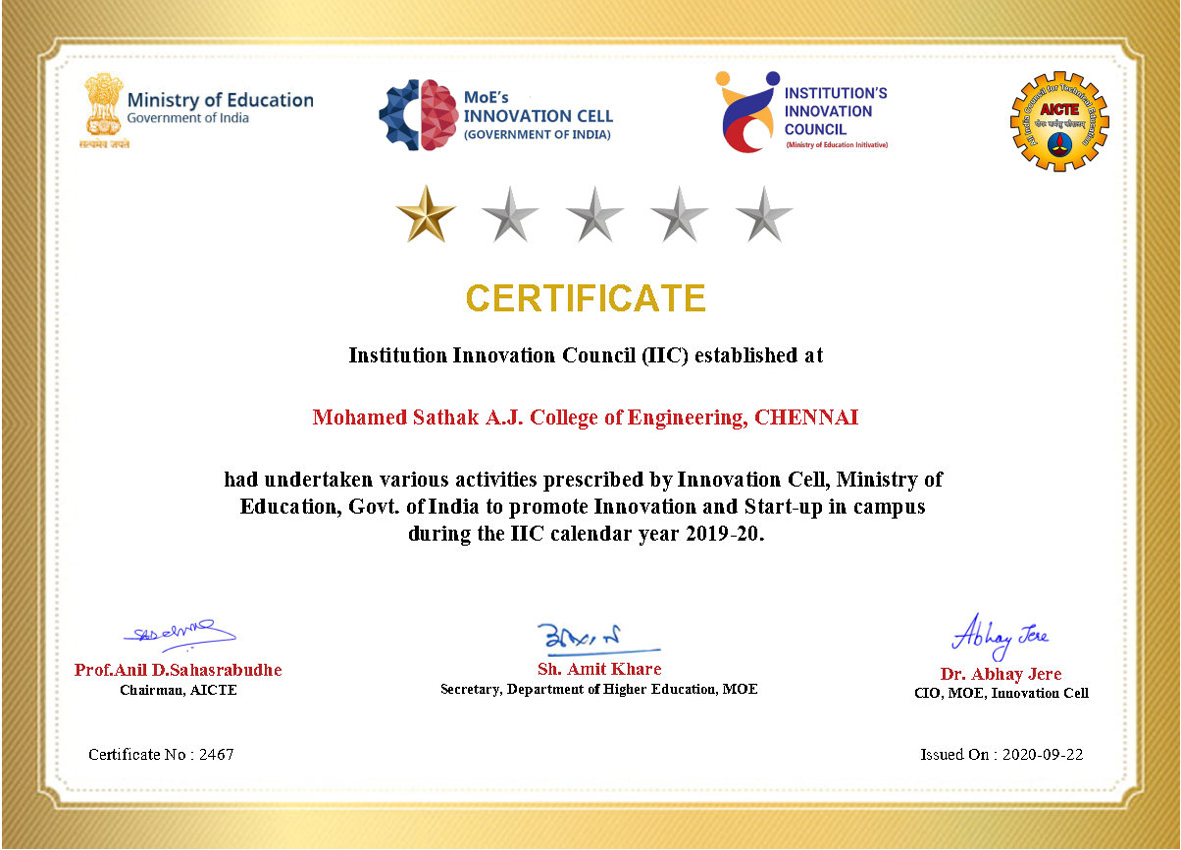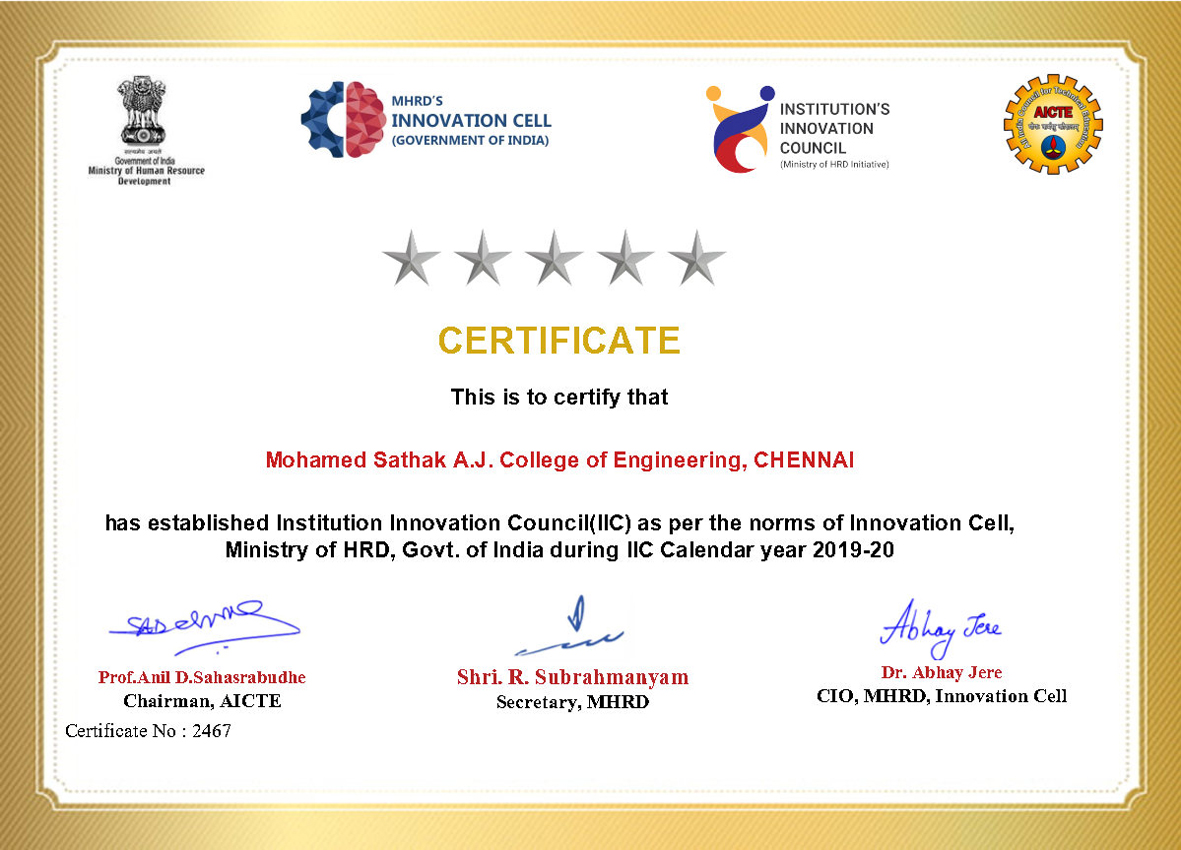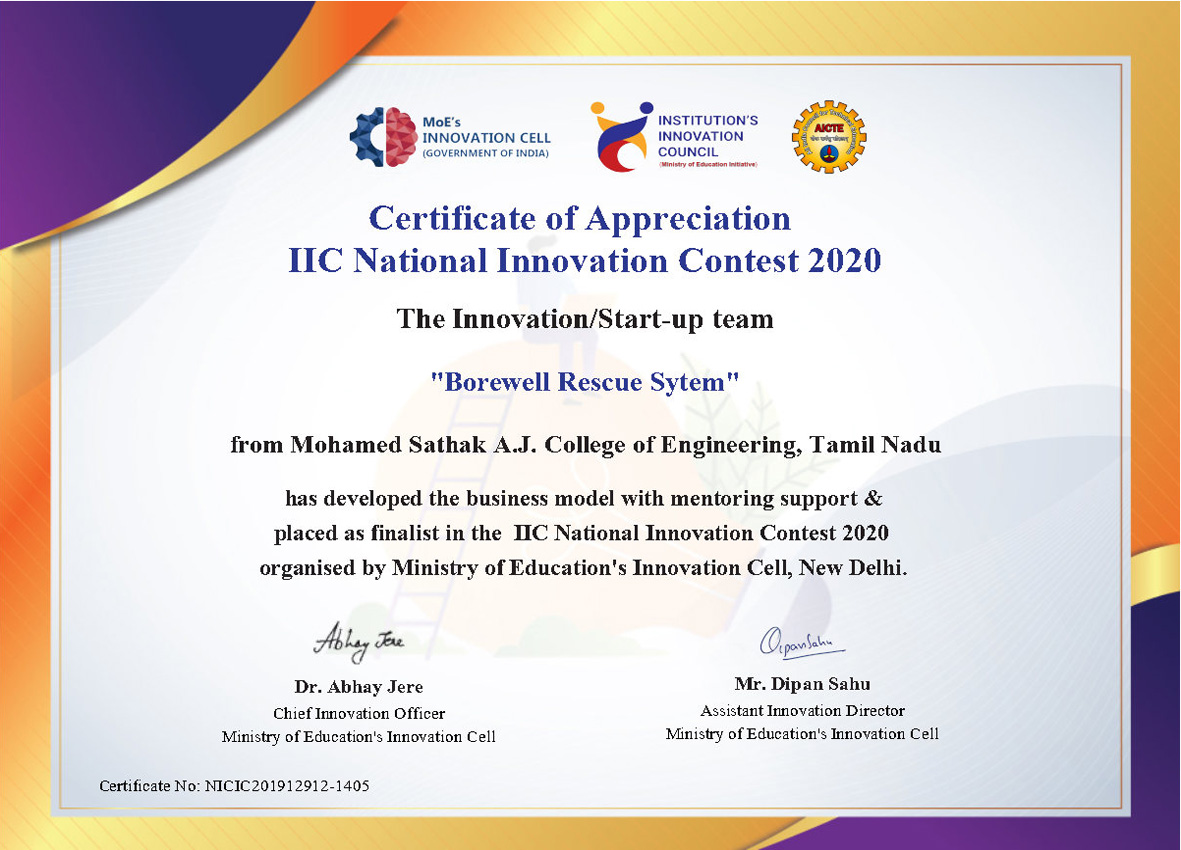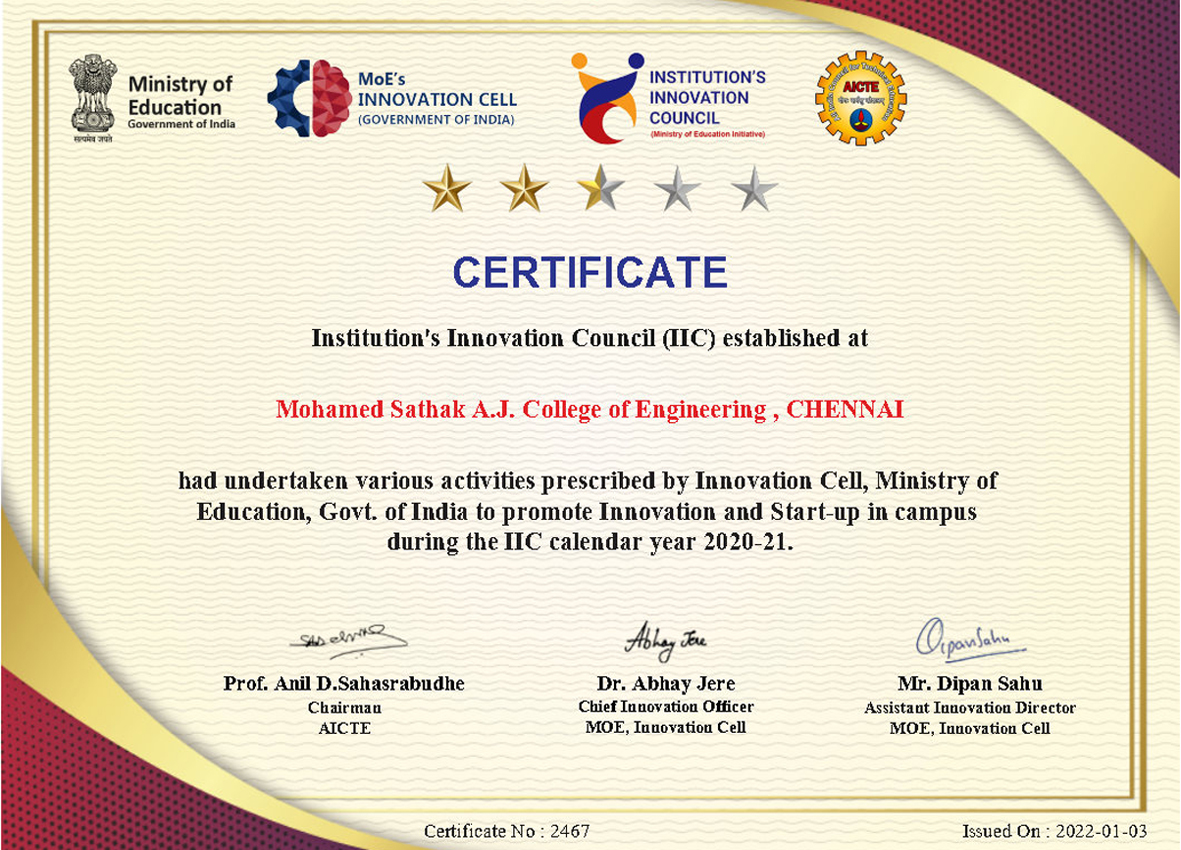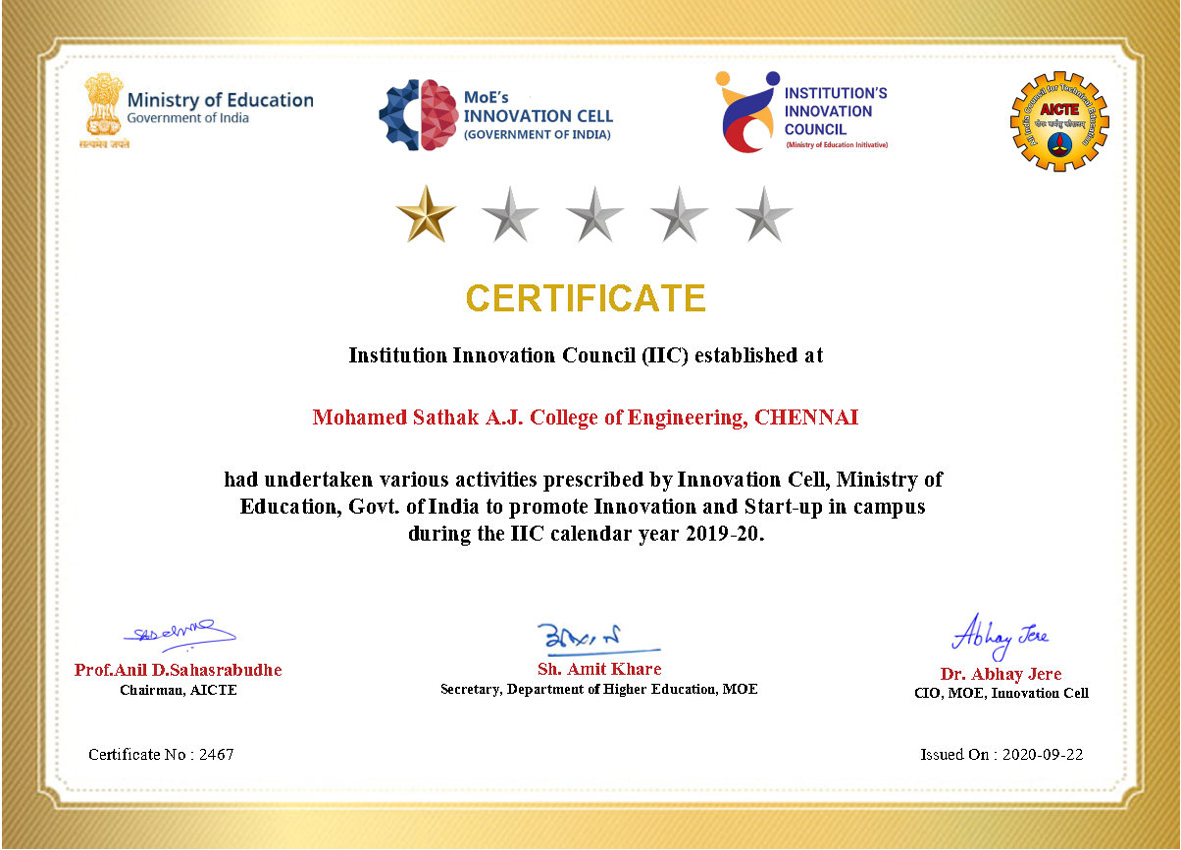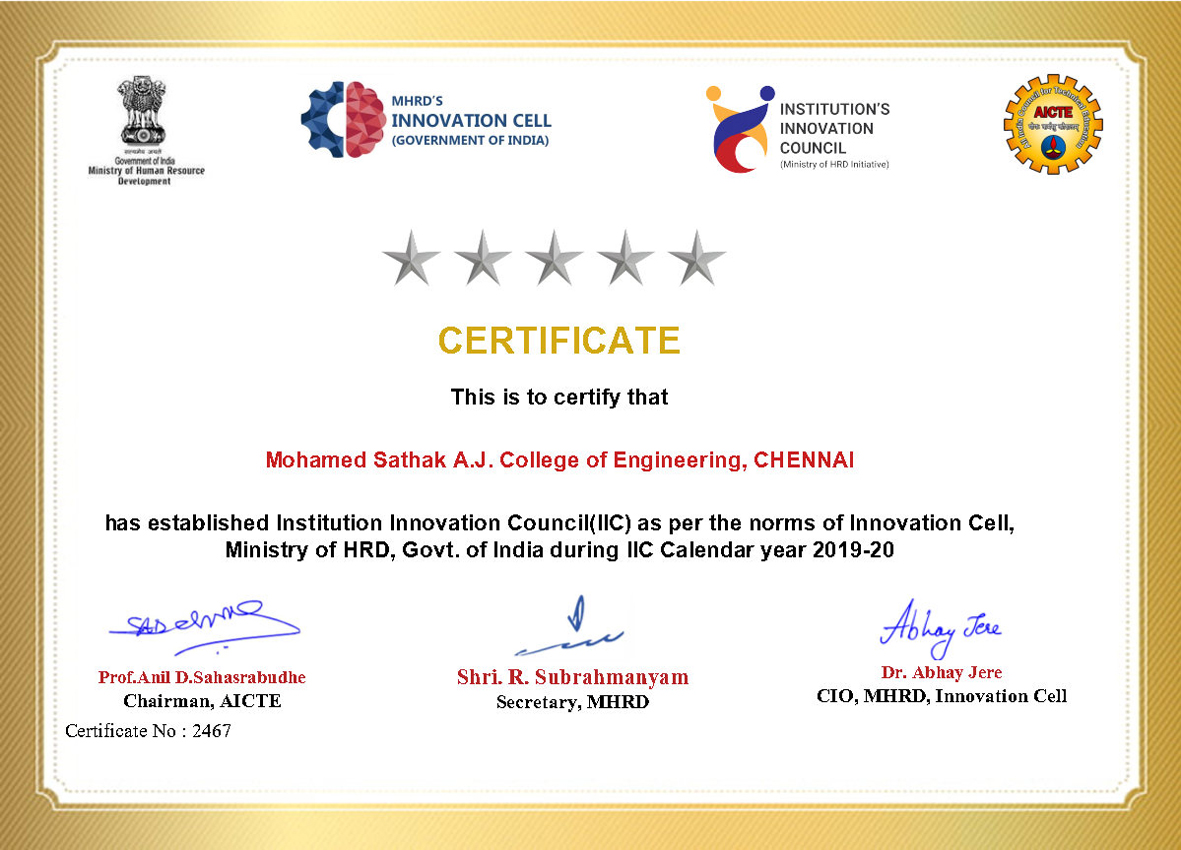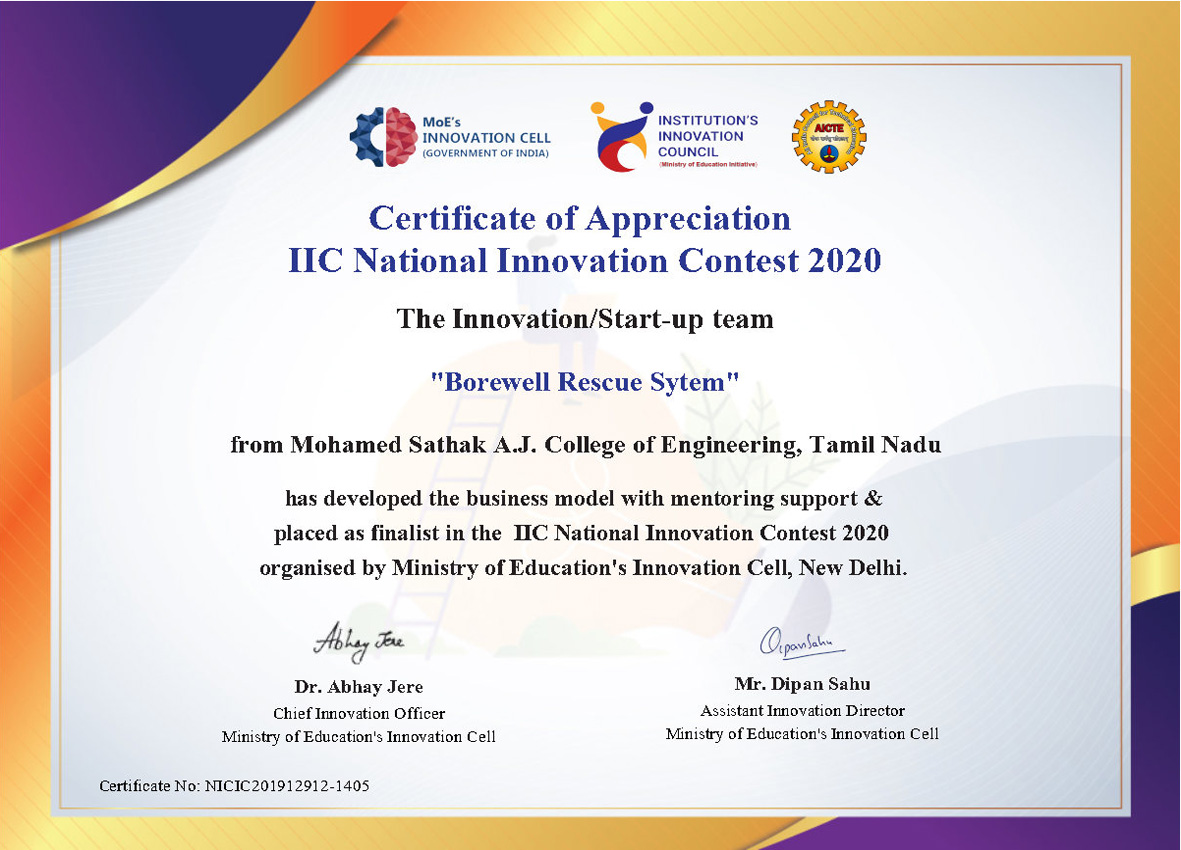 Name
Designation
President
Dr. D. Weslin
Head- Research & IPR
Vice President
Mr. Venkatakrishnan Sankaran
Levergent Technologies
Convenor
Dr. Vigneshkumar M
Coordinators
1. Dr. I. Manju
2. Dr. G. Ramesh
3. Mr.V.Vigneshwaran
4. Dr. Kamalaselvan
Head/ IQAC
Startup Coordinator
Internship Coordinator
IPR Coordinator
Innovation Ambassadors
1. Dr. I.Manju
2. Dr. B.Janarthanan
3. Dr. G.Ramesh
4. Mr. V.Vigneshwaran
5. Mr. Chintala Venkatesh
6. Mr. M.Kamarajan
7. Mrs. E.Jayanthi
8. Dr. B.Devibala
9. Dr. A.Bala Krishnan
10. Dr. R.Someswaran
11. Dr. R.Elliss Yogesh
12. Mr. L.Tharanikumar
13. Mr. D.Sakthivel
Professor/Department of ECE
Professor/Department of MECH
ASP/Department of MECH
V, Head-Placement, AP/ Department of MECH
AP/ Department of EEE
AP/ Department of ECE
AP/ Department of ECE
AP/ Department of S&H
AP/ Department of S&H
AP/ Department of CIVIL
AP/ Department of CIVIL
AP/ Department of MECH
AP/ Department of MECH
S.No
Name of the Activity
Date
No. of. Beneficiary
Department Association
Offline / Online
Report
1
Poster Presentation Competition
30.08.2023
40 Students
02 Faculties
EEE
Offline
View
2
Achieving Value "preposition Fit and Business fit
24.08.2023
60 Students
04 Faculties
MECH
Offline
View
3
Innovation and Stat up Ecosystem Enablers From the region level
24.08.2023
40 Students
02 Faculties
PT, EDC * IIC
Offline
View
4
Lean Start up & Minimum Viable Product/Business
23.08.2023
110 Students
05 Faculties
CSE
Offline
View
5
Innovations and Entrepreneurship Outreach Program in Schools/Community
17.08.2023
90 Students

CIVIL
Offline
View
6
Independence Day
15.08.2023
50 Students
20 Faculties
PED
Offline
View
7
Angel investments and VC Funding Opportunity for Early Stage Entrepreneurs
09.08.2023
60 Students
02 Faculties
ECE
Online
View
8
Online Sessions On Acceleration –Early Stage Entrepreneurs
02.08.2023
Around 150 Students
and Faculties
IT
Online
View
9
Workshop on Intellectual Property Rights (IPRS) and IP management for start up
29.05.2023
38 Students
17 Faculties
CIVIL
Online
View
10
Session/ Workshop on Business Model Canvas (BMC)
12.04.2023
60 Students
05 Faculties
ECE
Online
View
11
Session on 'How to plan for Start-up and legal & Ethical Steps'
30.03.2023
150 Students
10 Faculties
MECH
Online
View
12
Women's day celebration
10.03.2023
200 Students
25 Faculties
WDC
Online
View
13
Inter/intra institutional innovation competition/challenge/ hackathon and reward best innovations - manage through yukti-nir
27.02.2023
40 Students
05 Faculties
ECE
Online & Offline
View
14
Organize an Expert talk on Process of Innovation Development, Technology Readiness Level (TRL), Commercialisation of Lab Technologies & tech-Transfer.
27.02.2023
90 Students
10 Faculties
ECE
Online
View
15
Mentoring Event: Demo Day/Exhibition/Poster presentation of Innovations/Photo types & linkage with Innovation Ambassadors/Expert for Mentorship Support – Manage through YUKTI-NIR
24.02.2023
45 Students
08 Faculties
CIVIL
Offline
View
16
Workshop on Design Thinking, Critical thinking and innovation Design
21.02.2023
60 Students
12 Faculties
MECH
Online
View
17
Organizing Innovation and Entrepreneurship outreach program in Schools/Community
15.02.2023
90 Students
02 Faculties
IT
Offline
View
18
Field/Exposure Visit to Pre-incubation units such as Ideas Lab, Fab lab, Makesr Space, Design centres, City MSME clusters, workshops etc.
10.02.2023
60 Students
06 Faculties
P&T
Offline
View
19
KAPILA Kalam program for IP Literacy & Awareness
04.02.2023
218 Students
15 Faculties
IIC
Offline
View
20
Workshop on Entrepreneurship skill, Attitude and Behaviour Development
12.01.2023
43 Students
07 Faculties
EEE
Offline
View
21
Workshop on "Entrepreneurship and Innovation as Career Opportunity"
28.11.2022
(AN)
300 Students
18 Faculties
IT
Offline
View
22
National Educational Policy
28.11.2022
(FN)
250 Students
10 Faculties
S&H
Offline
View
23
Inter/intra institutional idea competition/challenge/hackathon and reward best ideas - manage through yukti-nir
19.11.2022
25 Students
05 Faculties
EEE
Offline
View
24
Personality Development and Business Etiquette
19.11.2022
60 Students
20 Faculties
WDc
Offline
View
Head of the Institution
Dr. K.S. Srinivasan
Principal
Mohamed Sathak A.J. College of Engineering
Chennai- 603103
Email: principal@msajce-edu.in
President
Dr. D. Weslin
Associate Professor
Head Research & IPR
Mohamed Sathak A.J. College of Engineering
Chennai- 603103
Email: iic.head@msajce-edu.in
Vice President
Dr.I. Manju
Professor and Head
Department of Electrical and Electronics Engineering
Mohamed Sathak A.J. College of Engineering
Chennai- 603103
Email: headir@msajce-edu.in
Academic Toppers
S.No.
Name of the Student
Year
Department Of Civil Engineering
1
Mohamed Jassim .M
II
2
Veera Kumar .M
III
3
Mohmood Naina .M.H
IV
Department of Mechanical Engineering
4
Salman
II
5
Atef Jamaludeen .N
III
6
Mohamed Nibras .M
IV
Department of Computer Science and Engineering
7
Vinitha .M
II
8
Bhuvaneshwari .B
III
9
Mahalakshmi .R
IV
Department of Information Technology
10
Shalini .M
II
11
Ganga .M
III
12
Fouzia .M.A
IV
Department of Electronics and Communication Engineering
13
Satheshkumar .V
II
14
Assifa .A
III
15
Vigneshwaran .V
IV
Department of Electrical and Electronics Engineering
16
Divyasri .S
II
17
Sathyan .S
III
18
Sanjith .S
IV
---