Welcome to the Learning Centre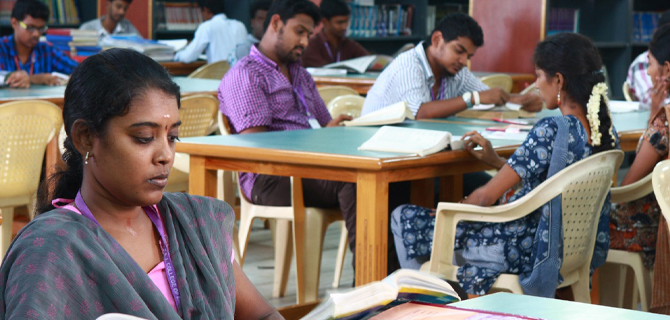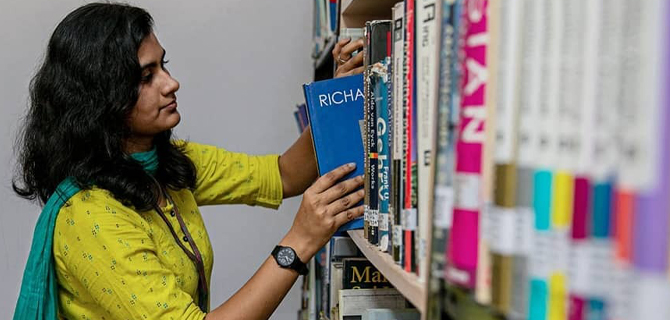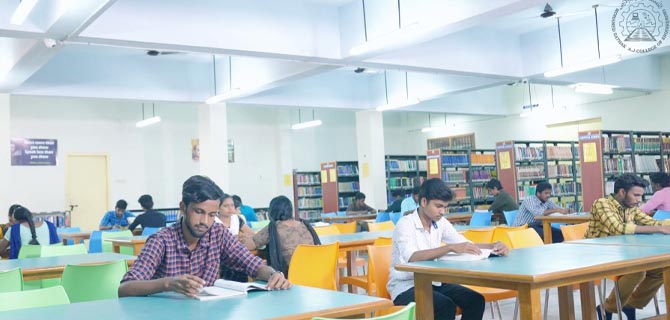 A library is the heart of an academic institution. Our institution encourages all students and staff members to make the best use of the library that has been carefully built up since the inception of the college as a cardinal support services of the Institute. The prime objective of our library is to provide the right information to the right readers at the right time in the right manner by bibliographic sources and full text sources in the form of print as well as digital in the disciplines of Science, Engineering, Technology, Humanities, Management, general and etc., are kept in separated places such as Stack Section, Reference Section, and Periodical Section to support the scholarly and informational needs of the Institute Community . The library is housed in a spacious area of 840 Sq.m., fully computerized with more than 28716 books and 1836 reference volumes stacked for the benefit of staff and students. The library subscribes around 90 specialized Printed journals. We are also a member of British Council Library, CSIR-Madras Complex, DELNET, J-Gate, TNDNPL.
Constant addition of new titles and volumes in all the fields is the regular feature of our library. Every effort has been made to obtain all titles recommended by the faculty. Newspapers, weekly and fortnightly magazines of repute are subscribed to enable the students to keep abreast of day-to-day trends. We are having Bar-coding and Internet connectivity. One Xerox machine has been provided for taking copies from library itself.
Library Resources- Stack Collection Details:
| | |
| --- | --- |
| Volumes | 28716 |
| Title | 4681 |
| National Journals | 62 |
| Magazines | 17 |
| E-Books | 16512 |
| Daily Newspapers | 04 |
| Back Volumes | 260 |
| CD-ROM | 156 |
| Project Reports | 250 |
| E-Journal DELNET | 860 |
| Database (J-Gate) Journals | 58817 |
Library Working Hours
Monday to Saturday - 8.00 A.M. to 7.00 P.M
All Sunday - 10.00 A.M. to 4.00 P.M
List of Printed Journals
| | | |
| --- | --- | --- |
| S.NO | NAME OF THE DEPARTMENT | No of Printed Journals |
| 1 | MECHANICAL ENGINEERING | 10 |
| 2 | ELECTONICS AND COMMUNICATION ENGINEERING | 10 |
| 3 | ELECTRICAL AND ELECTRONICS ENGINNERING | 10 |
| 4 | COMPOUTER SCIENCE ENGINEERING | 11 |
| 5 | CIVIL ENGINEERING | 10 |
| 6 | Information Technology | 11 |
| | TOTAL | 62 |
Free Online Course Materials
Services
| | | |
| --- | --- | --- |
| Transaction of Books (Issue & Return) | Internet & Intranet | Reservation of Books |
| Reference | Online Public Access Catalogue (OPAC) | Reminder for overdue books |
| Reprographic (Xerox) | Group Discussion Room | Inter Library Loan |
| Periodical utilization | | |
Institution Membership
British Council Library (BCL): cards borrow 03 books and 02 magazines against each card :https://www.britishcouncil.in/
Developing library Network (DELNET): (International Library Network) – avail any book, Xerox or soft copy of any journal article through ILL (Inter Library Loan) https://delnet.in/
Council of Scientific & Industrial Research Institutions (CSIR – Madras complex ) https://www.csircmc.res.in/
Rules & Regulations
| | |
| --- | --- |
| | All the Staff and Students are the members of our College Library. |
| | All the students are eligible to borrow 06 Books. |
| | All staff are eligible to borrow Books. |
| | Reference books and periodicals will not be issued. |
| | Library ID is not transferable. |
| | Member should notify the Librarian any loss of cards and change of address immediately. |
| | The User may reserve a book in circulation. He will be notified as soon as the reserved books are returned. The book will be retained at the circulation Desk for a one-day from the date of return. |
| | Books will be issued for a short duration of 30 days only. |
| | After 30 days First Seven days Rs.1.00 per day per book |
| | After 30 days 8 to 14 days Rs.2.00 per day per book |
| | After 30 days 15 days onwards Rs.5.00 per day per book |
| | Silence should be observed in the Library. |
| | The user should leave his/her personal belongs (Like bags, brief case, notebooks and files) at the entrance of the Library. |
| | Loss of books should be reported immediately to the Librarian. If the borrower is unable to replace the lost book, the cost (double amount) will be recovered from the borrower. |
| | All the books must be returned to the Library in time for the physical stock verification of library books. |
| | Students are advised to check whether the book contains all the pages intact and then borrow. At the time of returning, If we find any damage or defect the borrower will be held responsible. |
Membership Borrowing Eligibility
| | | |
| --- | --- | --- |
| Membership Category | Borrowing Entitlements | Loan Period |
| Professor | 06 Books | 30 Days |
| Associate Professor | 06 Books | 30 Days |
| Assistant Professor | 06 Books | 30 Days |
| Supporting and Administrative Staff | 04 Books | 30 Days |
LIBRARY COMMITTEE
| | | | |
| --- | --- | --- | --- |
| 1 | Dr.K.S.Srinivasan | Principal | Chairman |
| 2 | Dr.A. Balakrishnan | Head - Academics | Member |
| 3 | Dr.M. Sivagami Sundari | Convener | Member |
| 4 | Mr. S. Sudhakar | Librarian Sr. | Member |
| 5 | Mr. J.M. John Anish | Librarian Jr. | Member |
| 6 | Mrs.Jayanthi | Asst. Prof. - ECE | Member |
| 7 | Mr. S.R. Mohan | Asst. Prof. - MECH | Member |
| 8 | Mrs. R. Abirami | Asst. Prof. - EEE | Member |
| 9 | Mrs. M. Barveen Fathima | Asst. Prof. - ENGLISH | Member |
| 10 | Mr.Balaji | IV Yr Student Rep | Member |
| 11 | Mr.Manoj Kumar | III Yr Student Rep | Member |
| 12 | Ms.Kamali | II Yr Student Rep | Member |