Computer Society of India
History of CSI
The CSI Vision: "lT for Masses"
Keeping in mind the interest of the IT professionals & computer users CSI works towards making the profession as area of choice amongst all sections of the society. To fulfill this objective, the CSI regularly organizes conferences, conventions, lectures, projects, awards. At the same time it also ensures that regular training and skill updating are organized for the IT professionals. Education Directorate, CSI helps physically challenged citizens by providing training 'Punarjani'. CSI also works towards a global approach, by seeking out alliances with organizations overseas who may be willing to come forward and participate in such activities. CSI also helps governments in formulating IT strategy & planning

Region – VII
Tamil Nadu, Pondicherry, Andaman and Nicobar, Kerala, Lakshadweep.
Kanchipuram Chapter
Being closely associated with students, the Society has developed a well-established network across the country. The activities conducted for the students associated with the Society include lecture meetings, seminars, conferences, training programs, programming contests and industrial visits to installations. CSI has a strong Educational Directorate which undertakes activities related to Certification of professionals related to the latest technologies. It's recent initiative of distance education in the Business Domain areas offers technology enabled learning supported by personal counseling & expert advice. In an ever changing environment, CSI offers professional counseling being a great need of the hour. It is done by being in close contact with its young members through various events, conferences, symposia to name a few.
Our College Received Best Supporting College award (SBC) from CSI Kancheepuram Chapter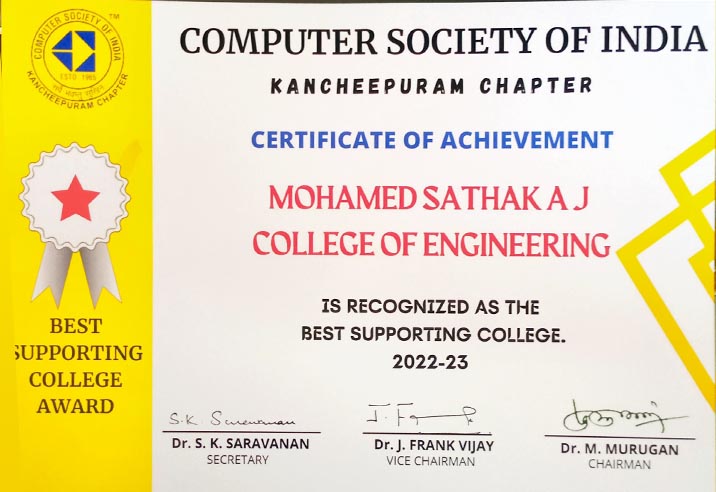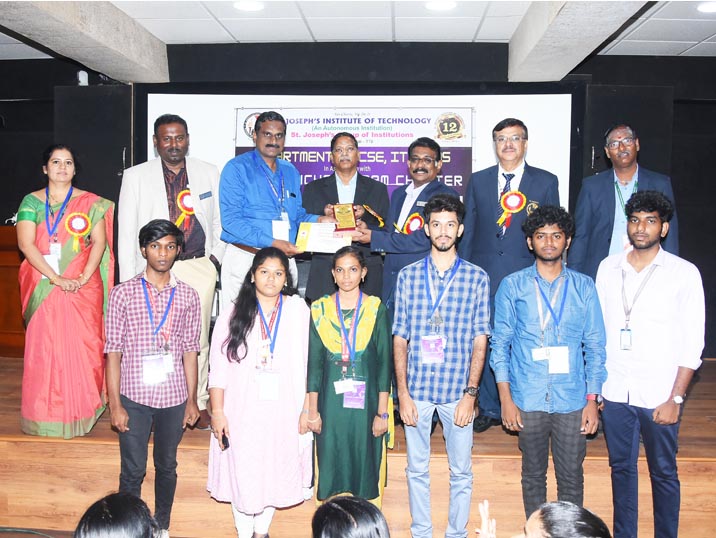 Our faculty Mr. D. Weslin Received Active participant award (SBC) from CSI Kancheepuram Chapter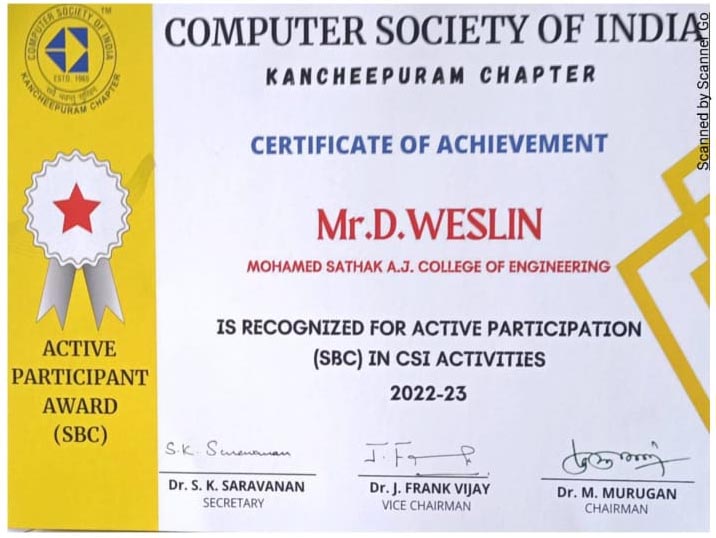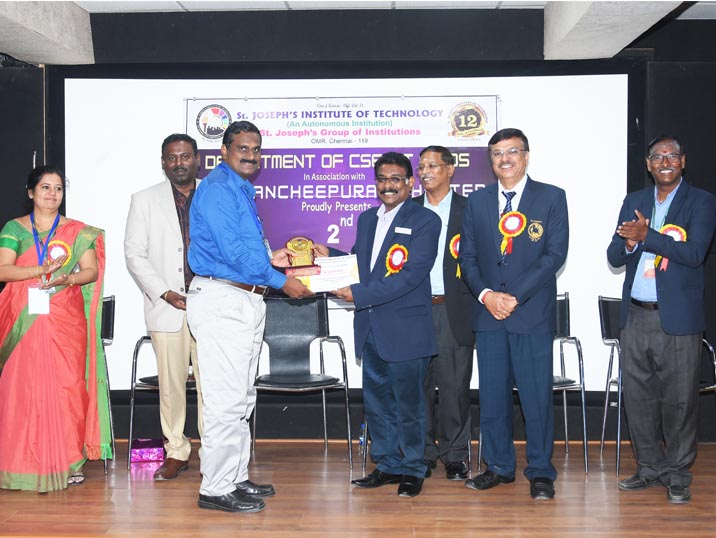 DETAILS OF NOMINATION AUTHORITY
Name
Designation
Phone
E-Mail
Dr. K.S. SRINIVASAN
Principal
Mohamed Sathak AJ College of Engineering
9150575066
principal@msajce-edu.in
Dr. I. Manju
Nominee
Professor
Department of ECE
9949055026
ece.manju@msajce-edu.in
Dr. D. Weslin
CSI Student Branch Counsellor
Associate Professor
Department of IT
9715202533
it.weslin@msajce-edu.in
CSI OFFICE BEARERS
Name
Department
Year
President
Shaikh Zaith.R
CSE
Vice president
Mohammed Farhan S.M
IT
Treassurer
Elango .V
CSE
Secretary
Arivukarasu .K
CSE
Members
Nithyasree .G
Divya .A
IT
IT
Activities
S.No
Name Of the Workshop
Resource Person
Date
No. Of Paticipants
Co-Ordinators
View
1
CSI Inaugural Function
Dr.Murugan,
President CSI
Kancheepuram Chapter
Principal,
Valliammai College of Engineering
28.02.23
200
Mrs.Viswajaa.S, AP/IT
Mr.Pandiyan.G, AP/CSE
View
2
Guest Lecture-voice over IP
Mr.Anbazhagan A T
Technical Lead,
Cognizant.
22.03.23
100
Mrs.Gayathiri, AP/CSE
Mrs.Aiswarya M.S, AP/IT
View
3
Guest lecture-Digital Marketing
Mr. J. Mohammed Afroze
Digital, CEO,
Chennai
17.03.23
110
Mr. Rajasekar R, AP/CSE
Mrs.Aysha Surfeen.M.A , AP/IT
View
4
Interactive Session

Innovation & Invention in AI Technology
Ms.Anisha Udhayakumar
AI Evangelist,
Intel Corporation
10.03.23
100
Mr.Vigneshwaran,TPO
Mr.Hamer Shield.J M
View
5
Benefits of CSI membership
Dr.M.Senthil Kumar,
Secretary, CSI
Kancheepuram Chapter
20.02.20
200
Mrs.S.Kayalvizhi,
Mrs.Bapitha Rani
View
Institute of Electrical and Electronics Engineers (IEEE)
The Institute of Electrical and Electronics Engineers ( IEEE ) is a United States of America based non-profit organization and is the world's leading professional association for the advancement of technology. In this society many renowned researchers, professors and scientist from worldwide have been affiliated with it through its global membership. The IEEE is a leading authority on areas ranging from aerospace systems, electrical, electronics, computers, telecommunications, biomedical engineering, electric power and consumer electronics among others. The IEEE publishes technical literature / highly qualified research articles in all the domains of electrical, computer science and electronics engineering and is a leading developer of international standards that underpin many of today's telecommunications, information technology and power generation products and services.
IEEE student branch gives the opportunity to meet and learn from fellow students, as well as faculty members and professionals in the field. The Student Branch activities offer numerous educational, technical, and professional advantages of IEEE membership through special projects, activities, meetings, tours and field trips. The activities of the student branch are listed as below :
| | |
| --- | --- |
| | Participation in regional conferences, workshops and competitions |
| | Development of leadership, Interpersonal and team building skills |
| | Scholarships and project/design programs and student paper contests |
| | Establishment of a Student Branch Library with IEEE's publications |
| | Access IEEE online services and resources & Establish a website |
| | Organize various awareness programs to school students & Public |
IETE Students Forum
The Institution of Electronics and Telecommunication Engineers (IETE) is one of the leading Professional Societies in India for Electronics and Communication Engineers. Our institution has established an IETE Students Forum in the year - 16 /08/2017 -. Our student branches have -100 active members. This Forum organizes Guest lectures, Seminars, Workshops, and conferences for the benefit of student members to exchange ideas and information on the topics of their interest like curriculum, employment opportunities, higher educational opportunities, emerging trends, new developments etc. The student members are also facilitated towards technical visits, practical training, and project work in R&D laboratories and Industries. These activities encourage team work, event management and develop the spirit of self-reliance among the student members. Our student members have also actively participated and won prizes in various technical events conducted by other institutions. IETE student members have the privilege to attend IETE technical programs in India at reduced registration fees
1. IETE Journal of Education
2. IETE Journal of Research
3. IETE Technical Review

Goals of IETE
| | |
| --- | --- |
| | Improving the standard of education |
| | Train the students in the emerging area to meet the new opportunities |
| | Encouraging outside-the-classroom studies / practical work / seminars etc |
| | Better employment of the students on completion of their courses |
| | Substantial increase of IETE membership and its nationwide distributions |
Benefits of ISF
| | |
| --- | --- |
| | Priority for publishing their papers in Journal of Education |
| | Can also subscribe for other publications such as IETE Journal of Research and IETE. Technical Review (available online) |
| | ISF students are welcome to attend IETE technical programs in India at reduced registration fees |
| | ISF member will be issued with an Identity Card |
School Code
Branch Code
Branch Counselor 1
Dr. I. Manju
Branch Counselor 2
Mrs. S. Anusuya
IETE Activities Conducted
S.No
Name of the Event
Details of Resource Person
Date of the Event
Target Audience
No. of Participants
1
Signal and Power Integrity in Semiconductor Industry
Mr. ZakirHussain, M.E. Analog Design Engineer, Microchip India PVT Ltd, Bangalore
27-06-2020
100
65
2
Cyber Physical Systems and its Applications using LABVIEW
Mr. K. Prakash , M.E.Application Engineer, Optithought
24/06/20
100
77
3
Art of Thinking Big
Mr. Aadil Ibrahim .A (Alumnus) Founder of Cameraman, Entrepreneur by Profession, Public Speaker by Passion
11/06/20
160
263
4
Embedded & IOT Boot Camp
Day 1 - Dr.A.L. Vallikannu, Associate Professor, HITS, Chennai
"Day 2 - Dr.Athif shah,
Founder Managing Director , ABE semiconductor Designs, Chennai"
"Day 3 - Mr. M. Prabakaran (Alumni)
Senior Software Architect in Caterpillar"
27/05/20 to 29/05/20
75
120
5
Scope of Electronics Engineer in Various Domain
Mr.Sankaralingam Principal Engineer, Valeo & Mrs.Suganya-Jasmine Infotech
30/01/2019
63
70
6
Inter Department TECHNICAL QUIZ
Coordinator:Mr. M.L. Syed Ali Convenor: Dr. E. Dhiravidachelvi
12/02/20
Won prizes
3 batches
200
7
IETE- TECHNICAL & NON TECHNICAL CONNEXIONS
Coordinator: Ms. E. Jayanthi Convenor: Dr . E. Dhiravidachelvi
01/09/2018
Won prizes
3 batches
300
8
PROJECT EXPO
Coordinator: Ms. I.S. Suganthi
Convenor: Dr . E. Dhiravidachelvi
23/03/ 2018
Won prizes
3 batches
70
9
Seminar on Recent Trends in Optical Fibre Communication
Dr A.Sadagopan ,
Asst.General Manager (Rtd)
BSNL, IETE Professor
16 /08/2017
97
120
Society of Automotive Engineers
Society of Automotive Engineers(SAE) is a U.S.-based, globally active professional association and standards developing organization for engineering professionals in various industries. Principal emphasis is placed on global transport industries such as aerospace, automotive, and commercial vehicles. Accordingly, the name SAE was established to reflect the broader emphasis on mobility.
SAEINDIA is India's leading resource for mobility technology. As an individual member driven society of mobility practitioners the ownership of SAEINDIA wrests with its members who are Individuals from the mobility community, which includes Engineers Executives from Industry, Government Officials, Academics and Students .It is an affiliate society of SAE International registered in India as an Indian nonprofit engineering and scientific society dedicated to the advancement of mobility industry in India. Student clubs of SAE from various academic institution, make sure that they establish a link between the industry and the students.
SAE India with its four sections (Northern ,Eastern, Southern and Western) covering entire India, organizing various events for the benefit of Engineering Student community
SAE India Student Events
| | |
| --- | --- |
| | TRACTOR DESIGN COMPETITION |
| | BAJA SAE INDIA |
| | SUPRA SAEINDIA |
| | AERO DESIGN CHALLENGE |
| | SAE INDIA STUDENT CONVENTION |
| | SAE INDIA BICYCLE DESIGN COMPETITION |
| | SAE INDIA ASOP |
| | ELECTRIC TWO WHEELER DESIGN COMPETITION |
| | SAE INDIA TIFAN(TECHNOLOGY INNOVATION FORUM FOR AGRICULTURAL NURTURING) |
| | SAE INDIA EFFICYCLE |
Our College Milestones
| | |
| --- | --- |
| | Inaugurated the SAE-INDIA collegiate club associated with MSAJCE dated on21.02.2020 |
| | Conducted the SAE-INDIA Southern section TIER-II event dated on 21.02.2020 |
AE India - MSAJCE Collegiate Club Office Bearers
Faculty Incharge
Student Members
Mr.S.Deepakkumar
President
Syed. N.Zaheer Abbas
Mr.R.Prabu
Vice president
Chandrasekar. G
Secretary
Muhammed Zahan Faaieq J
Joint Secretary
Shahila P
Treasurer
Abdullah B
SAE Activities Conducted
Academic Year 2019-2020
The Indian Society of Heating, Refrigerating and Air Conditioning Engineers (ISHRAE)
The Indian Society of Heating, Refrigerating and Air Conditioning Engineers (ISHRAE), was founded in 1981 at New Delhi by a group of eminent HVAC&R professionals. ISHRAE operates from 41 Chapters and sub Chapters spread all over India, with HQ in Delhi. ISHRAE works in the National interest with various Govt. Ministries/Departments, e.g. in the development of Standards & drafting of NBC for BIS, working on ECBC with BEE, with Ozone cell of MoEFCC, on refrigerant gases. ISHRAE is a member & active supporter of National Centre for Cold Chain development (NCCD). Ministry of Agriculture works closely with NCCD on refrigeration. ISHRAE is also working in close co-operation with other similar Societies & organizations, both at national and international level, for the promotion and development of issues like Sustainability, Green Buildings, Energy Efficiency, Environmental Responsibility, Indoor Air Quality, Fire& Safety. ISHRAE is looked upon as a repository of technical knowledge in the HVAC&R and Building Industry field by peer Organizations & the Govt. of India.
ISHRAE objectives includes, advancement of the Arts and Sciences of Heating, Ventilation, Air Conditioning and Refrigeration Engineering and related services, Continuing education of members and other interested persons in the said sciences through Lectures, Workshops, Product Presentations, Publications and Expositions, Rendition of career guidance and financial assistance to the students of the above said sciences and encouragement of scientific research. As part of its objectives to promote the interests of the HVAC&R industry, ISHRAE is involved in various activities. ISHRAE reaches out to all its members and seeks their active participation & involvement in all the Events/Programs organizedby the society.
The activities of the student branch are listed as below
| | |
| --- | --- |
| | Provides excellent networking opportunities to interact with other Professionals, Industry Leaders and key decisions makers in the Profession and Industry |
| | Provides an excellent forum for professional development and continuous training & Re-training on both fundamentals and latest products & technologies available worldwide |
| | Easy access to all ISHRAE Technical Publications, Software, Workshops, Conferences and Training Programs |
| | Opportunity to work in the Chapter Working Committee & Headquarter activities towards our mission to promote the arts and sciences of HVAC&R in India |
| | Provides a platform for effective marketing and launching of new products and technologies through exhibitions, product presentations and advertisements |
| | Provides an International exposure through International Associates |
---